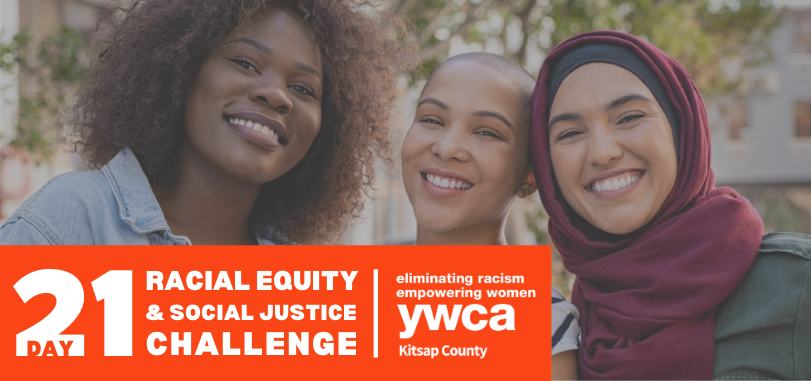 WHAT IS THE 21-DAY RACIAL EQUITY AND SOCIAL JUSTICE CHALLENGE?
This virtual challenge will take 5-15 minutes of your day for 21 days and is designed to create dedicated time and space for education and to build more effective social justice habits concerning issues of race, racism, power, privilege, and leadership.
You can take the Challenge on your own or with a team! Each day you will be presented with challenges to read an article, listen to a podcast, or watch a video. Your participation can help to discover how racial and social injustice impact our community, to connect with one another, and to identify ways to dismantle racism and other forms of discrimination. This is an exciting opportunity to dive deep into racial equity and social justice. We hope you will join us on this journey and we can't wait to get started!
JOIN THE LUNCH AND LEARN SESSIONS
YWCA Kitsap County and Co-host Kitsap Strong invite you to participate in the Lunch and Learn Zoom sessions. We will discuss the information reviewed and center Leaders of Color as they share their experiences with racism in Kitsap County. Participants will have an opportunity to listen, reflect with peers and come together as a community in next steps – A Call to Action.
WHAT INSPIRED YWCA'S 21-DAY CHALLENGE
We credit Food Solutions New England for inspiring this challenge. They were the first to adapt an exercise from Dr. Eddie Moore and Debby Irving's book into the interactive 21-Day Racial Equity Challenge, which launched
in 2014.